When doing research on a dog breed, one of the most important factors to investigate is how much a dog costs, upfront and ongoing. When we were looking into how much English bulldog puppies cost we were surprised at how expensive they were.
On average, an English bulldog puppy costs $3,750, with the cost ranging from $3,500 – $9,000 depending on the quality of the breeder and your location. Due to the higher prevalence of health issues and the associated vet visits, the annual cost of raising a bulldog is between $1,800 – $4,500.
When buying a dog, you have two buckets of costs to consider: the upfront costs of purchasing the dog and the ongoing annual costs of raising the dog.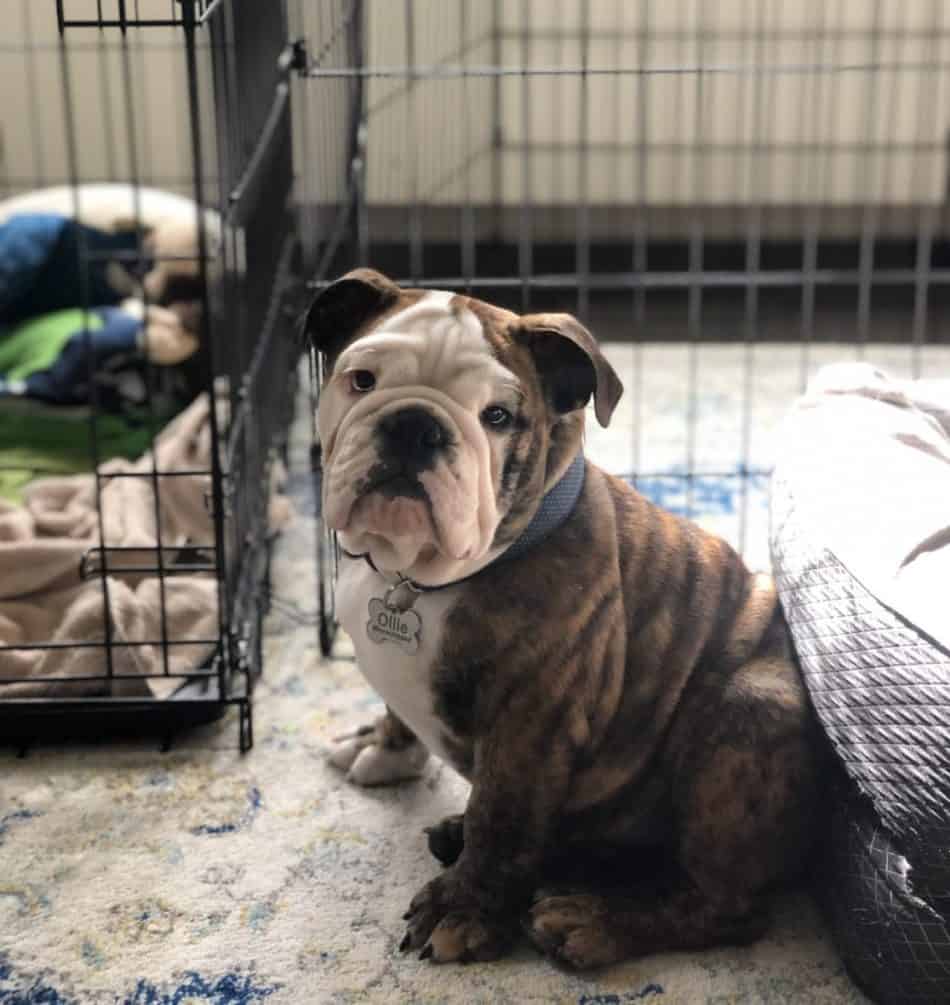 The English bulldog is an expensive breed to purchase as well as raise. While doing our research for our bulldog, we realized a lot of websites didn't include the annual costs associated with raising a bulldog. We've decided it would be helpful to share the budget we're using for our English bulldog in New York City. Of course, your budget will vary depending on location but hopefully it's helpful as a foundation when planning for your own bulldog!
We've outlined in this post both the upfront and annual costs. These costs exclude additional services like professional grooming, doggy daycare, and dog walking.
For a free excel of a bulldog budget template click here. We've included a range of costs we've found during our research and have added a column for you to input your own budget. Hope you find this helpful in preparing for your own bulldog!
Upfront costs
The upfront costs of buying an English bulldog puppy includes buying the bulldog, initial registration fees, the puppy's first check up, and getting your apartment or house bulldog-ready. We're showing a range for many of the costs as some people will choose to spend more on their dog than others.
Cost of buying an English bulldog puppy ($3,500 – $5,000)
An English bulldog puppy from a reputable breeder will cost between $3,500 and $5,000, depending on where the breeder is located. Generally speaking, a C-section for a bulldog birth costs around $2,500, so anything less than that means the bulldogs are most likely from a puppy mill and not from a reputable breeder.
Dog Training ($0 – $2,000+)
It's up to you whether you want to train your bulldog by yourself or in classes. If you train your bulldog by yourself your costs will only be treats, which you probably will have on hand. Going to puppy training in NYC can get very expensive. We've found that 5 training sessions at an hour each in length costs about $350. If you want a trainer to come to your apartment or home and do one-on-one training, we've seen trainers charge around $225 per hour.
Licensing and Registration fees ($8.50 – $35.00)
Both licensing and registration fees will vary widely by city and state. Here in NYC, as of 2019, it cost only $8.50 per year to license a spayed or neutered dog. Otherwise it's $35.00.
Apartment fees ($100 – $1,000)
Check with your apartment's landlord as this will vary widely. Our research has found that some landlords charge only a one-time fee of around $50 to $100. We've heard in some cases landlords will charge up to one month's rent as a deposit to have a dog. Before getting your bulldog, inform your landlord or building's management of your plan to get a dog. And of course, make sure you check to see if your building lets you own a dog!
First vet check-up ($125 – $200+)
First vet check-ups costs between $125 to $200 to run all the annual tests. Costs can be higher if additional conditions such as allergies need to be tested for. It's not uncommon for bulldogs to need additional testing.
Getting your house or apartment English bulldog ready ($200 – $700)
Remember as part of welcoming home a new bulldog you'll have to purchase a few products to get ready for the arrival of your new pup. You'll need to have a crate or cage, food, dog bed, harness and leash, food and water bowls, grooming supplies, toys, shampoo, and dog waste supplies, among other items.
On-going costs
English bulldogs tend to suffer from a number of health issues which require more vet visits than many other breeds. Because of that, the annual cost of raising a bulldog is between $1,800 – $4,500, so you can expect to spend between $22,000 – $54,000 over your bulldog's lifetime.
Insurance ($0 – $1,500)
Getting insurance for your bulldog is something you'll want to think about. It could cost you as low as zero if you don't enroll your dog in it. Generally, we've found insurance for bulldogs costs between $75 to $130 a month, depending on coverage, deductibles, and the insurance provider.
Food and treats ($600 – $1,400)
Depending on if your going to feed your dog high-quality reputable food or more generic grocery store food will dramatically influence how much you want to put in your bulldog's food budget. Since bulldogs are sensitive to many things including the quality of food, we recommend paying extra for really good dog food. Not only will it keep your bulldog happy and healthy, it could save on extra vet bills and could extend your bulldog's lifespan.
Vet visits ($125 – $200)
We are only including the costs of annual check-ups. Your annual vet bill for your bulldog could get substantially higher if he or she requires prescription medications or has issues that require surgery. That is why we recommend finding a good insurance plan that will cover some of the more expensive procedures that may occur at some point during your bulldog's life.
Reserves for emergency ($500 – $2,000)
Every year you should have money set aside in case your English bulldog has an emergency. If you have insurance, you'll want to set aside an amount to at least cover the deductible. If you chose to go without insurance, we recommend having a significantly higher reserve set aside just in case of emergencies.
Conclusion
English bulldogs are a very expensive dog breed and there are additional costs when raising one in a city. Even though you can expect to spend between $22,000 and $55,000 over the life of your bulldog, the joy and companionship you get in return from these wrinkly bundles of love is well worth the cost. Make sure you do your own research before purchasing your bulldog as expenses will vary by location. This post should give you a good baseline to compare your research to in order to create your own English bulldog budget!