English bulldogs are not the most active dogs, but they do still require their daily walks. Depending on where you live and your local environment, you might be required to leash your dog when taking him or her out.
When choosing a leash for an English bulldog, it is important to pick the right one the first time, unless, you plan on buying a new leash every 5 – 6 months.
We recommend choosing a leather or nylon leash that is 6 feet in length with a trigger snap clip. This combination of materials, length, and components provide the strongest and most durable leash option for an English bulldog.
If a trigger snap clip is unavailable, a normal bolt snap clip will do fine, but it will be slightly less durable and secure.
We made the mistake of choosing the wrong material for our first leash for our English bulldog and ended up having to replace it far sooner than expected. This post has all the information we researched and discovered from our experience of choosing the wrong first leash and picking a new leash for our English bulldog.
If you're slightly impatient and just want someone to point you in the direction of a good bulldog leash, I hear you! This is the leash I think is best for English Bulldogs, found on Amazon.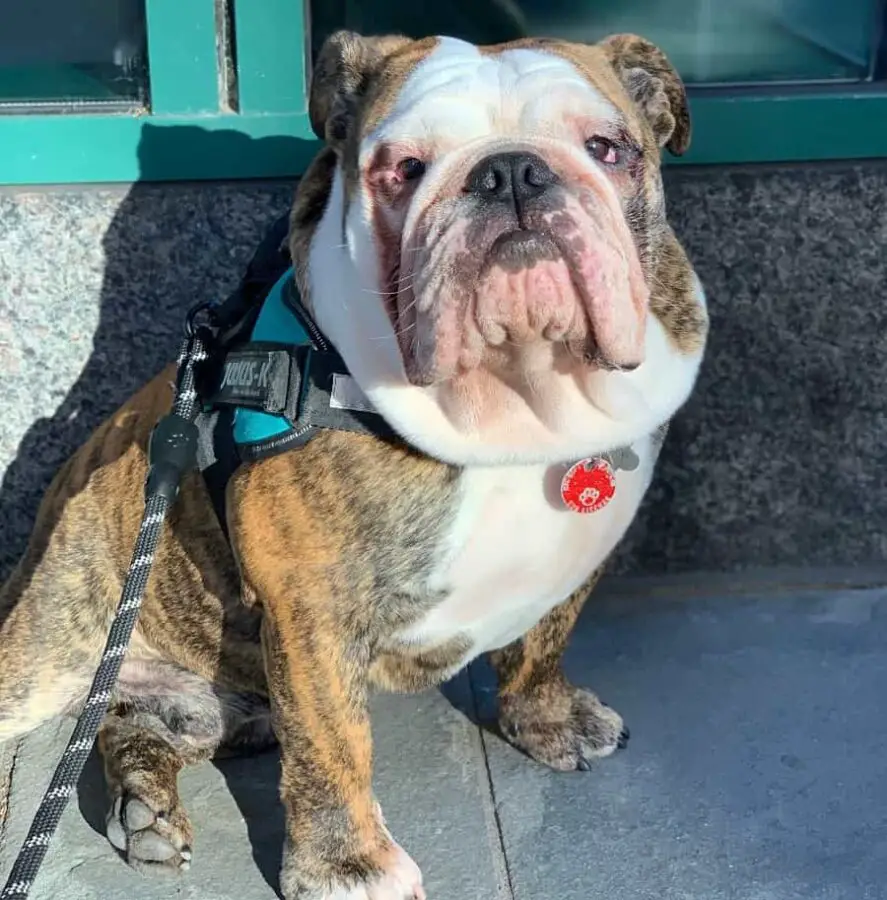 Questions to ask yourself when choosing a leash for your English bulldog
What are you using the leash for? Are you using the leash for training or daily casual walks? Is your dog well behaved or do they tend to get into a bit of mischief?
What length of leash do you want? What environment are you walking your dog in? Is it on the sidewalks of a busy, dense city or on unobstructed wide-open fields? Or something in between?
Which material do you want? Does your dog tend to pull on leashes or are they better behaved and stay nearby even on a loose leash?
Which style of hook or clip do you want? Want something that will work well most of the time or something that will always work reliably?
What are the characteristics of the perfect English bulldog leash?
In our opinion, the most important characteristics of a good leash for an English bulldog is strength and durability. English bulldogs are known for pulling on the leash from time to time. Either they are pulling you or you are pulling them, depending on how they feel on any given walk.
Of course, this pulling behavior is one we hope to train out of our dogs, but in the meantime, your leash should be strong enough to handle it.  
Our English bulldog tends to pull when excited to see other dogs or when he stands his ground not wanting to go home. He is six months old, so he is in the process of learning that this behavior is unacceptable.
In these six months of taking him our on daily walks, he has managed to stretch out his cotton leash, which is not as durable as we originally thought (see photo below). This led us to research better options for his next leash, to find out what material is best.
What are the parts or components of a dog leash?
Different leashes have different components. Generally, there is a loop at one end and a clip or hook at the other. Re-tractable leashes have additional components, but we do not recommend those types for Bulldogs as they are less durable. See below for an illustrative outline of the leash components in most common leashes.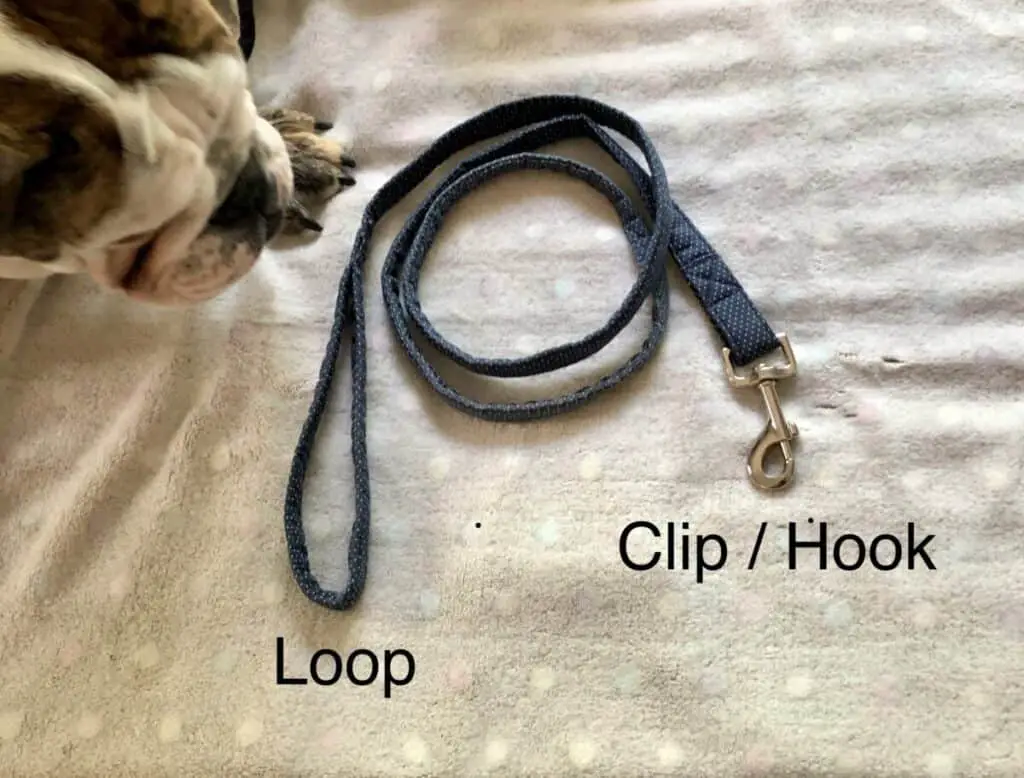 What are the different length options for dog leashes?
The length of your dog's leash should be determined by the environment in which you will be walking them and the purpose of the leash (i.e. training or casual daily walks). Generally, leashes come in five different categories of length: 4ft, 6ft, 8ft, 10ft, and long line leashes.
4ft Leashes – These are mostly for urban environments. The short length helps ensure your dog stays close and does not get tangled up in trash cans, lamp posts, and with other pedestrians.
6ft Leashes – This is probably the most common length of dog leash. In most situations this will be an acceptable length, keeping your dog close enough but giving them a little sense of freedom. You can also shorten it in your hand if you need it to be a few feet shorter.
8 to 10ft Leashes – These leashes are more appropriate for training purposes. It allows you the have enough length for your dog to sit and stay, with you then taking a few steps back and having them come to you on command.
Long Line Leashes – Ranging from 50 to 150ft in length, the primary purpose for these leashes is training. They help establishing control with your dog even at more extreme distances.
What are the different types of leashes?
Adjustable leash – These leashes allow you to adjust the length using either a hook, button, or belt system.
Retractable leash – We are not huge fans of these leashes as they have more moving parts and are more likely to break or get jammed. They allow for automatic adjusting of leash length with a lock and release system. Lengths commonly are available in 10ft, 16ft, and 26ft variations.
Martingale leash – These leashes are for dog show purposes only and the collar is a loop that tightens around the dog's neck when pulled. These leashes are only to be used by experienced dog owners and well-trained dogs. We do not recommend these leashes for 99 percent of English bulldog owners as untrained dogs are susceptible to hurting themselves on them.
Training and standard leash – These are the most common types of leashes ranging from 4ft up to 150ft in length for long distance training. Leash materials include leather, nylon, cotton, and recycled materials.
Bike leash – These leashes are specifically made to attach your dog leash to a bicycle. We do not recommend these with English bulldogs because they are not physically able to run at speed over long distances, without risking injury.
Hand-free leash – Theses leashes are just as described, hands free. Instead of a small loop connecting to the length of the leash they sometimes come with another hook which allows the owner to clip the leash around their waist, instead of holding it in their hands.
Multi leash – These leashes are used when walking multiple dogs. It allows the dog walker to clip multiple dogs onto a single leash line.
Car safety belt leash – A specialized leash that is used when your dog is in the car while the owner is driving. The leash can be secured onto a nearby safety belt buckle which prevents your dog from wandering around the car while it is moving.
What materials are leashes made of? And what is the best material for your English bulldog?
Leather – Fancier than nylon, these leashes are durable but more costly. They are also more comfortable to hold in your hand than nylon leashes. One downside is they are not waterproof, so if you live in a wet environment where rain is a common occurrence, we recommend nylon over leather.
Nylon – Strong like leather but cheaper and more weather resistant, nylon is a great material for an English bulldog leash. Take care when handling them though, if your dog takes off suddenly the leash can slip through your hands and could result in friction burns.
Cotton – One of the most common materials that leashes are made from is cotton. Cotton leashes generally look nice but are unfortunately not very durable. As seen in the earlier photo above, they tend to stretch out over time and are easily chewed up if your dog chews on leashes.
Chain – The most durable material a leash can be made from is metal. These are particularly useful if your dog chews their leashes to bits. However, if your dog does chews on a metal leash watch their teeth as it could lead to permanent damage.
Reflective material – Generally, made of nylon with reflective material woven into them. This material is great if you walk your dog at night or dusk, as motorists and cyclists can more easily see you as they pass by. You should always wear reflective materials when walking in the dark, especially near moving cars.
Recycled material – More dog owners are looking for environmentally friendly options for accessories, and new recycled materials are becoming popular. A material we have seen more of is recycled nylon rope which is exceptionally durable and used in the sport of rock climbing.
8 Reasons why dog leashes are important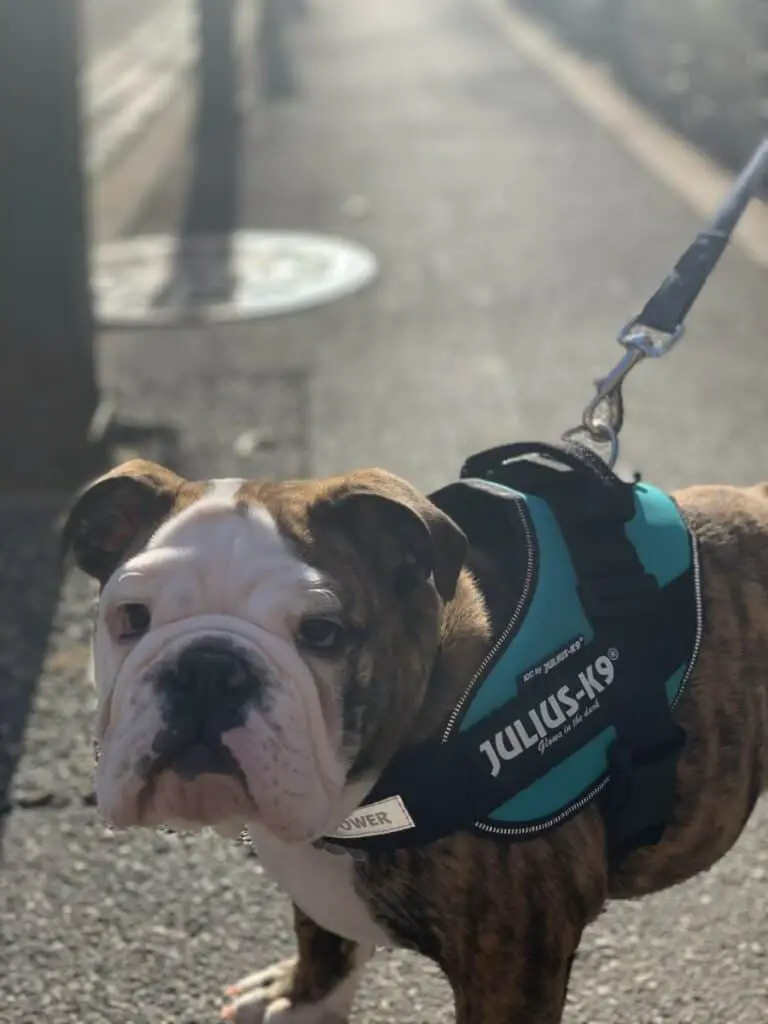 Dog leashes are an important tool in the toolbox of every dog owner. They help facilitate training, safety, and control between the dog owner and the dog. Other benefits of dog leashes include:
Preventing your dog from running away
Keeping your dog well-mannered around people and other dogs
Preventing your dog from chasing wild animals like squirrels and chipmunks
Avoiding traffic
Keeping your dog safe
Preventing fights between dogs
Keeping a close eye on your dog
Abiding by local laws
Which states in the U.S. legally require dogs to be leashed?*
There are no overarching federal laws in the U.S. on whether dogs must be leashed or not when outside. The federal government has left this decision in the hands of states. Some states have decided to mandate laws requiring dogs to be leashed when outside and others leave the decision to local or regional jurisdictions.
Dog leash laws are generally included in "Running at Large Statutes", which provide rules for animals inside and outside of confined areas. Running at Large Statutes are not limited to dogs and can include livestock like cattle, chicken, goats, and other pets and animals.
If a state says dogs are not permitted to "run at large", this means dogs must always be leashed. If a state says dogs are permitted to "run at large" they may be allowed off leash but maybe with specific restrictions.
Below is a table listing the rules as they pertain to dogs on leashes, in all 50 states and Washington D.C. If you are thinking about letting your dog off its leash, make sure to always check your state and local statutes as the laws are always changing and the information on this blog post may be out of date.
For more information on dog leash laws, Edgar Snyder & Associates has informative resources.
Note: each state's leash law has nuance that is not captured in the simple table below. Where it is listed as "Restricted" there may be specific exceptions or restrictions when a dog may be permitted or not permitted to be unleashed, so always check with your state and local government. As stated in the disclaimer below, it is up to you to verify your specific local and state leash laws.
| | | |
| --- | --- | --- |
| # | State | Leash Requirements |
| 1 | Alabama | Must be on leash |
| 2 | Alaska | Up to local government |
| 3 | Arizona | Must be on leash |
| 4 | Arkansas | Up to local government |
| 5 | California | Restricted |
| 6 | Colorado | Up to local government |
| 7 | Connecticut | Must be on leash |
| 8 | Delaware | Restricted |
| 9 | District of Columbia | Restricted |
| 10 | Florida | Up to local government |
| 11 | Georgia | Up to local government |
| 12 | Hawaii | Restricted |
| 13 | Idaho | Up to local government |
| 14 | Illinois | Must be on leash |
| 15 | Indiana | Up to local government |
| 16 | Iowa | Up to local government |
| 17 | Kansas | Up to local government |
| 18 | Kentucky | Restricted |
| 19 | Louisiana | Must be on leash |
| 20 | Maine | Restricted |
| 21 | Maryland | Up to local government |
| 22 | Massachusetts | Up to local government |
| 23 | Michigan | Must be on leash |
| 24 | Minnesota | Up to local government |
| 25 | Mississippi | Up to local government |
| 26 | Missouri | Must be on leash |
| 27 | Montana | Up to local government |
| 28 | Nebraska | Restricted |
| 29 | Nevada | Restricted |
| 30 | New Hampshire | Restricted |
| 31 | New Jersey | Up to local government |
| 32 | New Mexico | Up to local government |
| 33 | New York | Up to local government |
| 34 | North Carolina | Restricted |
| 35 | North Dakota | Up to local government |
| 36 | Ohio | Restricted |
| 37 | Oklahoma | Up to local government |
| 38 | Oregon | Restricted |
| 39 | Pennsylvania | Must be on leash |
| 40 | Rhode Island | Up to local government |
| 41 | South Carolina | Must be on leash |
| 42 | South Dakota | Up to local government |
| 43 | Tennessee | Restricted |
| 44 | Texas | Restricted |
| 45 | Utah | Up to local government |
| 46 | Vermont | Up to local government |
| 47 | Virginia | Up to local government |
| 48 | Washington | Up to local government |
| 49 | West Virginia | Up to local government |
| 50 | Wisconsin | Must be on leash |
| 51 | Wyoming | Up to local government |
*The information provided on this website does not, and is not intended to, constitute legal advice; instead, all information, content, and materials available on this site are for general informational purposes only. Information on this website may not constitute the most up-to-date legal or other information. Readers of this website should contact their attorney to obtain advice with respect to any legal matter.
Here are some of my favorite Dog and Bulldog Products
Thank you for reading this article. I hope you found it helpful for your dog and bulldog questions. Here are some products I like that I hope you'll also find helpful. These are affiliate links, and I am compensated for referring traffic. But in all honesty, these are the exact product that I use or recommend to everyone.
Food For Bulldogs: Royal Canin Bulldog was the dog food our breeder recommended for our bulldog with a bit of canned pumpkin added for each meal to give a bit of extra fiber
Poo Bags: For poo bags we use Greener Walker poop bags. We have used them for over a year without having a single leak. Also, these bags are made to be friendlier for the environment.
Wrinkle Cleaning Wipes: We use Huggies natural care fragrance free baby wipes to clean out our bulldog's wrinkles. They are good for sensitive skin which bulldogs are known to have.
Durable Dog Bed: I can't begin to tell you how many dog beds we have gone through as many fall apart over time. Without a doubt, the most durable one I have found is PetFusion Ultimate Dog Bed. I love this dog bed because it has an outer liner which can be replaced if it gets too beat up.
To see all our most up-to-date product recommendations, check out this resource that I made for you!
Thebulldogblog.com is a participant in the Amazon Services LLC Associates Program, an affiliate advertising program designed to provide a means for sites to earn advertising fees by advertising and linking to Amazon.com. Thebulldogblog.com also participates in affiliate programs with other sites. Thebulldogblog.com is compensated for referring traffic and business to these companies.
Sources
https://www.redbarn.com/the-ultimate-guide-to-choosing-the-best-dog-leash
https://www.labradortraininghq.com/labrador-training/how-to-choose-the-right-leashes