Choosing the right toy for your English bulldog is not as easy of a task as you might think it is. You might think you can do it quickly by browsing online, but how can you be sure you pick something that will not only be loved by your bully, but will also be durable and safe for him or her to play with?
When choosing a good toy for your English bulldog, there are four things you should consider: durability, size, functionality, and aesthetics. Keeping these four factors in mind will not only result in you choosing a toy your bulldog will love, but one that will last even after hours of chewing.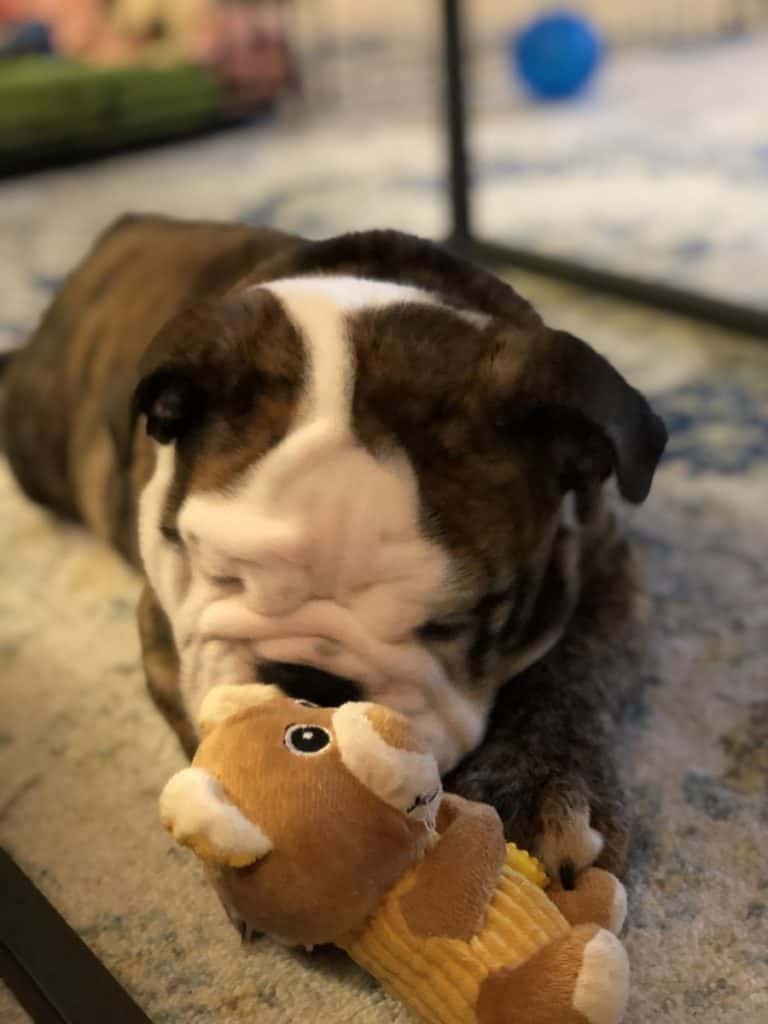 To help with your search, we've highlighted below a list of ten toys that we hope will help you find the right one for your bulldog!
1. Nylabone Puppy Starter Chew Toy:
The Nylabone is a great option for your bulldog when he or she is a young little puppy. It comes in different sizes and is quite durable and can handle those sharp, little puppy teeth. It also has the added benefit of helping to clean your dog's teeth while he or she plays with it, so it's good for your dog's mental AND dental health!
2. BIONIC Urban Stick Fetch and Chew Toy:
If you're looking for a multipurpose toy for your dog, the BIONIC Urban Stick Fetch and Chew Toy is the perfect option for you. It serves many purposes: it can be a stick that your dog can fetch, a toy your bully can chew on, and a treat dispenser. It's easy to fill up with peanut butter or other treats, so your dog can keep him/herself busy with it.It comes in three different colors and sizes, and most importantly, it is BPA-free, so it is safe for your doggie to chew on.
3. Well Love Dog Chew Toys:
We're cheating with this one because it's not really one toy, but a pack of six cotton rope toys. These brightly colored, naturally-made toys are non-toxic and don't have a specific taste, making them safe in addition to being fun for your dog, and they last long, so your dog will be chewing away for days on end.
4. Bullibone Spinning Dog Chew Toy:
This is a great toy for older bullies, and will have them chewing on them with joy! They are quite durable and will last through hours of chewing, keeping your dog entertained and happy the whole time. Added bonus: It's made from materials that help clean your dog's teeth as they chew on it. And with flavors like bacon, it will be hard for your dog to resist this toy!
5. Allstar Innovations Wobble Wag Giggle Ball:
This is probably the most entertaining toy we have on our list, as you can probably get from the name! As the name suggests, the ball makes giggle-like sounds every time it moves, which keeps your dog entertained every time he or she touches it. The ball has six small clutches or holes, which makes it a bit easier for dogs to grip on to with their teeth.
6. Ethical Pets Play Strong Dog Toy:
This is another great option for our habitual chewers who can't get enough chewing action. It is made of rubber, so it's a little easier on your dog's teeth, so they can chew on this for days. The toy also has a hollow center, so you can fill it up with treats and watch your bully play with it for hours on end.
7. Busy Buddy Bristle Bone Dog Toy:
This toy is another great option and combines a toy, with a treat holder, and a teeth cleaner. This toy is shaped like a bone, and includes bristles in the middle, which help to clean up your dog's teeth as he chews on it. And to entice your dog, the toy comes with six rawhide treats (and you can buy more), which you can insert on the toy and give your pup more reason to chew on it. And since it's dishwasher-safe, it's easy for you to clean!
8. JW Pet Company Chompion Dog Toy:
This toy has a unique design and although it looks similar to a dog bone, it's made of a natural rubber and has bumps and ridges all around. These textured bumps not only help to keep plaque off your dog's teeth, but also helps to strengthen their teeth. You can use it for fetch or for tug of war, and while it's sturdy, it is not too rough too hurt your doggo's gum and teeth. It comes in three different colors and sizes.
9. KONG Dental Dog Toy:
KONG is famous for its toys made from a trademark rubber material which is both durable and sturdy. This particular toy has unique grooves which help promote the production of saliva, which can help maintain your dog's health. The ridges also help to strengthen and clean your dog's teeth and gum, all with little wear and tear of the toy. So if you're looking for something that will outlast your dog's sharp teeth over the years, look no further than the KONG Dental Dog Toy. And an added bonus, you can stuff it with treats, so you're dog won't be able to resist playing with it.
10. KONG Puppy Flyer Dog Toy:
I know what you're thinking: a frisbee for your bulldog? He is way too lazy for that! But, if there is a toy that will get your bulldog up on their feet, it's the KONG Puppy Flyer Dog Toy! Its soft rubber ensures that your pup won't hurt him or herself when they catch the frisbee (or, let's face it, when the frisbee hits him or her in the face when they miss it!). It's great for teaching your dog to fetch, and although soft, it's is both durable and flexible.
So, if you're looking for the best toys for English bulldogs, these are the ten options which you can consider. All these toys will not only keep your dog entertained, but most of them provide extra benefits for your dog's health too and quite durable.
And if you're not sold on these, here are some tips to keep in mind when looking for your dog's next favorite toy:
What are the characteristics of a good dog toy for English bulldogs?
There are a few factors that you have to keep in mind while choosing the best toy for your English bulldog. These include:
• Quality of the material: Chew-resistant and durable materials are best to outlast hours of your dog's chewing. But, make sure you choose natural materials, so that they don't harm your pet's health.
• Size: It's best to avoid toys that are too small, as they could be a choking hazard for your dog. At the same time, you should avoid getting something that's too big when they are pups, as they won't be able to chew on them comfortably.
• Functionality: The best toys are ones that not only keep your dog entertained, but also provide health benefits by strengthening your dog's teeth and gums while they play with it. There are also great options that act as treat dispensers, that will keep your dog buys for hours.
• Aesthetics: It's best to get nice, bright colors, so that your dog can spot his or her toys easily. And, who wants a dull-looking toy anyway?
What types of toys should English bulldogs owners avoid?
There are a few types of toys which you should avoid as an English bulldog owner. These include:
• Toys which are swallowable or that are choking hazards
• Toys which suffer damage due to chewing
• Toys containing toxic chemicals, lead, and other harmful ingredients
• Toys which are difficult for your dog to pick up
How many toys should a bulldog have?
It is always better to provide your English bulldog with at least three to four toys. This will ensure that your pup won't get bored and that he or she will have options to switch between. But, we will be quite impressed if you're able to limit the options to just three or four! It's hard not to spoil that wrinkly bundle of joy!
Where are good places to buy dog toys online and in-person in the U.S.?
Online stores to buy dog toys:
Amazon: Amazon has one of the largest collections on offer, as you can probably imagine.
Chewy.com: If you're looking for a more dog-specific site, then Chewy.com is the place to go. They haev quite a wide variety of toys, from plush toys, chew toys, interactive toys, and fetch toys. If you're on the search for something different, this is one site you shouldn't ignore.
Petco: Petco has over a 1,000 different types of toys to choose from and you can select by category of toy your desire. Each toy has a great description, so you get a sense of what you're getting before you make you purchase.
Brick-and-mortar stores:
Petsmart: With over 1,400 stores in the country, you should be able to find a Petsmart store in any of the states in the U.S. A great option when you want to check out a toy in person before you get it for your pooch.
Walmart: Walmart's pet care aisle is pretty well stocked, and offers a wide variety of toys.
Petco: Petco not only has a great online collection, but they also have over a hundred stores in the U.S. So, you get the convenience of browsing online, but also get a chance to check out items in person before you buy.
We hope this guide is helpful to you as you browse for the best toys to keep your bully satisfied!
Sources