As bulldog owners, you know that sleep is an important part of your dog's day. In fact, when your bulldog is not playing with you, eating, or on a walk, chances are he or she is probably asleep (If you're curious about how much a bulldog does sleep in a day, check out this post). So, with sleep being such an important activity in your bulldog's daily routine, it's important to pick out the right dog bed that will be both comfortable and durable.
How to pick the right dog bed for a bulldog?
When choosing the right bed for your bulldog, it is important to consider factors like size, durability, ease of cleaning, and the style of the bed. You'll want something that is big, but not too big, easy for your dog to get in and out, cozy and comfortable, and of course, easy for you to clean.
Something that looks nice and matches the rest of your home's decor is an added bonus.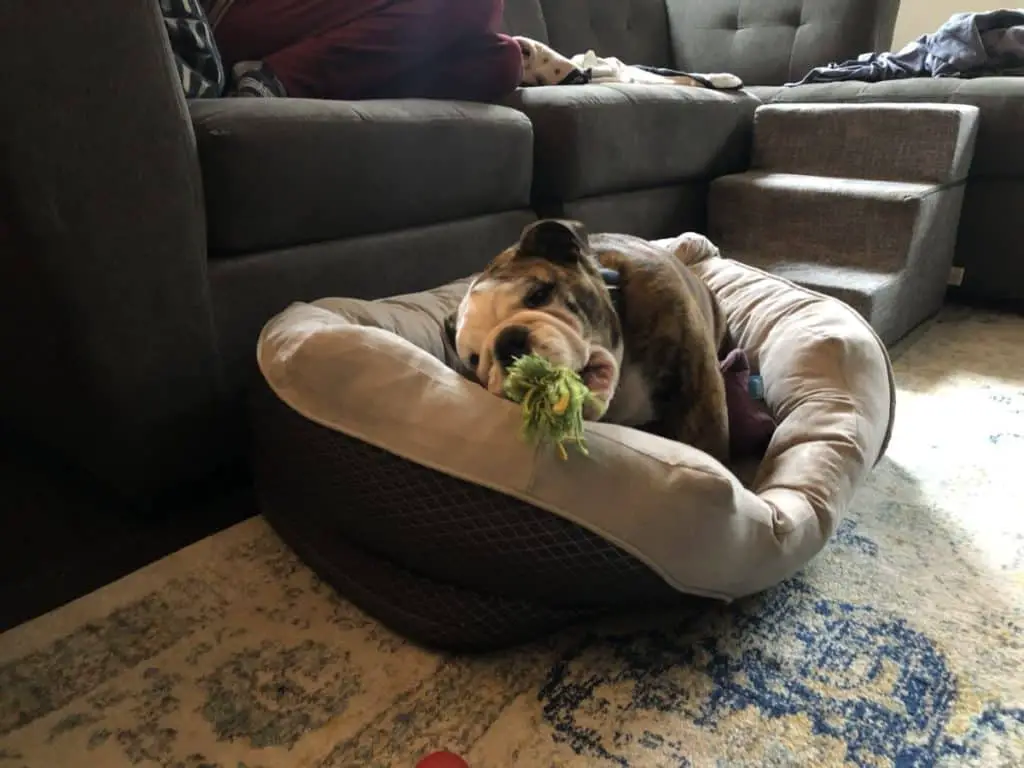 What do bulldogs need out of a dog bed?
• The right balance between comfort and support: Most bulldog owners look at the softness of the bed. Ideally, you have to choose one which is soft but not so soft that it does not provide the proper support for your dog. You should try to achieve the right balance between comfort and support, so that your dog won't suffer from arthritis and other related issues in the future.
• Personalized area: Dogs require beds that can help them develop a sense of belonging, and a bulldog is no different. Beds are areas for the dog to relax, calm down, and feel truly at home, so it's important to find an option that is soothing for your dog.
• Large enough area: While dogs often snuggle in bed, you should ensure that the bed's dimensions should be big enough to allow your dog to sleep fully stretched out. Consider measuring your dog while it's asleep so that you can purchase a bed that is comfortably big enough for it.
What other factors make a good dog bed for a bulldog?
There are a few additional attributes that can let you distinguish between an average and an above-average dog bed:
• Breathability: It is essential to get a bed which will be at the right temperature for your dog. Beds that come with a breathable cover are a good option to be sure that your dog will be at ease irrespective of the season.
• Insulation: Another way to ensure your dog will be at a comfortable temperature is to ensure that the bed offers an insulating layer.
• The bedding: Probably the most important factor of any bed, for dogs or for humans! And like humans, this is entirely dependent on what is best for your dog's individual characteristics and unique needs. For example, if your bulldog suffers from arthritis or other bone-related problems, a memory foam bed might be the right option for it. On the other hand, polyester might be a better material for puppies. And if you're like us, and care about the materials, organic cotton beds are also a great, comfortable, and durable option.
What are the different materials dog beds are usually made out of?
The exterior materials often include:
• Microfiber fabrics: The advantage of microfiber fabrics is that they are durable and breathable. They are entirely smooth as well, which means that your dog will be at complete ease. They are also easy to wash and are waterproof, which makes them the most popular type of outer material for dog beds. Microfibers, however, are not the most environmentally-friendly materials, so while they are convenient, if you're an eco-savvy customer, this might not be the best option for you!
• Faux leather: Faux leather is not only durable but is also soft and can handle scratches and wear and tear. When the bed consists of this material, it can last longer and is also aesthetically pleasing.
• Cordura nylon: Cordura nylon is a durable option because it is a chew- and scratch-resistant material. It will likely withstand your puppy's teething periods and more!
• Vinyl material: Vinyl material is lightweight and easy to clean by simply using a mild dish soap. Vinyl is versatile and a preferred option for many since it is easy to maintain.
Inner filling of dog beds:
• Foam: Memory foam is one of the most popular fillings for dog beds. It is suitable for older dogs as well as younger ones. The older dogs can get proper bone joint support with this filling, because it can resist compression, which means that it will retain its shape.
• Cedar chips: Cedar chips can repel bugs, and provide a nice smell, which will keep your dog bed smelling fresh for longer. Which is good, since they are unfortunately not washable, so you'll have to replace them when they do eventually become smelly, or no longer provide the right support for your dog. That, along with the fact that they are a more expensive option in general, makes it a less feasible option for the budget-conscious bed seeker.
• Polyester filling: Polyester filling is often widely used in dog beds. It is hypoallergenic, provides excellent insulation, and is lightweight and washable, which is why it is so widely used.
Can dog beds be toxic for your dog?
Dogs can be allergic to certain materials like formaldehyde, which can cause skin irritation. The best way to pick the safest bed for your dog is to choose a hypoallergenic bed.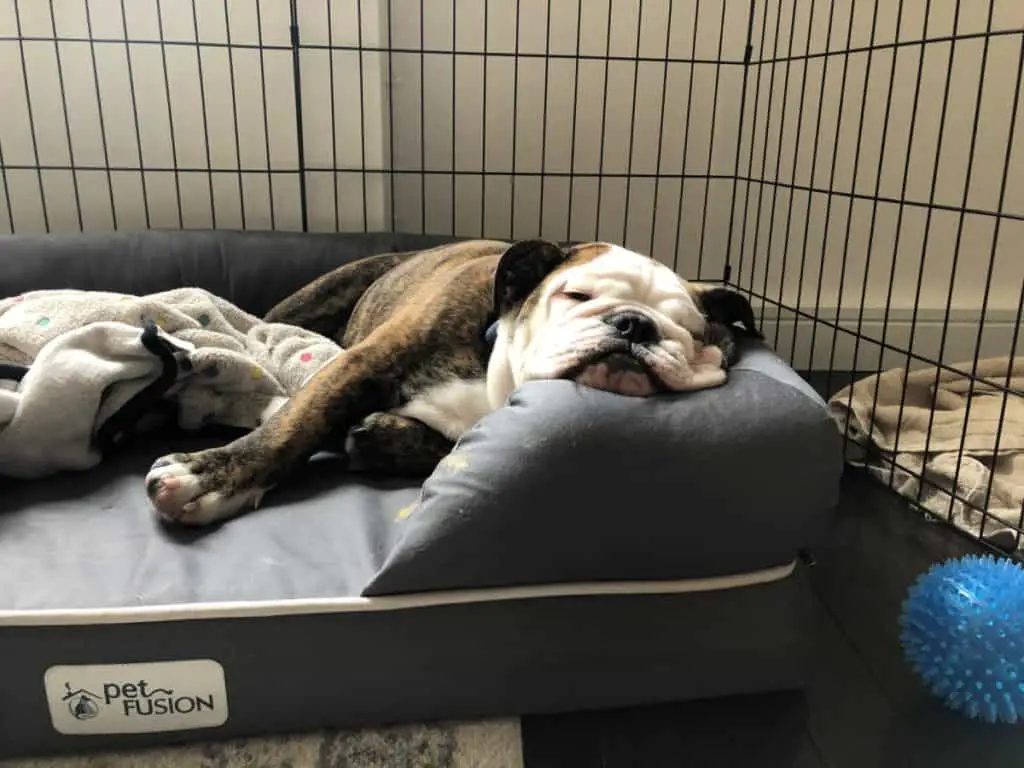 Which dog bed brands are known for their quality? What makes them so good?
Now that you are aware of the things which you should look for while choosing a dog bed, here are three brands and their top tier models to choose from.
1. Brindle
Brindle has been selling dog beds since 2012. They specialize in versatile dog beds, which can provide proper support for your dog. Most of their dog beds are for orthopedic dogs, which means that adequate bone joint support is always on offer.
Model: Brindle Waterproof Designer Pet Bed
The memory foam makes this bed a good choice. It is available in six different design options and three sizes, which makes it easy for you to choose. It consists of a 2-inch conforming memory foam and 2-inch high-density support foam. The combination of both of these foam types makes it very comfortable.
The zippered cover is easy to remove and wash. The waterproof layer beneath the cover ensures that you need not worry about any spills. It can handle a lot of wear and tear and has a non-slip bottom, which means that it remains in one place.
Additional features:
• Suitable for various dog species
• Six different designs
• Consists of 4-inch foam
• Three different size options
• Highly durable
• Non-slip bottom
2. Sealy
Sealy dog beds have won best dog bed awards in 2014 and 2015. They offer a wide variety of bed options made from the best possible foam to give proper support for your dog. They come with a washable cover, which means that maintaining them is quite easy. The ease of use and promised comfort make them a good option.
Model: Sealy Lux Quad Layer Orthopedic Dog Bed:
What sets this bed apart from others is that it provides proper support to your dog's bone joints. It is suitable for healthy dogs as well as those suffering from problems like arthritis. The machine washable cover makes it easy for you to keep it clean. With four different color options and four sizes available, you have plenty of choices.
One of the additional features of this bed is the cooling gel, which will keep your dog at a comfortable temperature year-round. It also has a charcoal base that can absorb odors easily, keeping it smelling fresh for longer.
Additional features:
• Available in four sizes and designs
• Machine washable
• Provides proper support
• Odor absorbing
3. Kopeks
Kopeks has been manufacturing dog beds and other pet accessories for the last four years. Due to the numerous options, they have become quite famous among pet owners. Also, many beds of this brand cater specifically to bulldogs.
Model: Kopeks Deluxe Orthopedic Round Dog Bed:
If you're looking for an open design, you can certainly go with this round dog bed. There are different sizes available in two different colors. It is suitable for orthopedic dogs as well, which is one of its main advantages.
The diameter of this bed is 35.5 inches and consists of 100 percent memory foam. The thickness is 4.7 inches. With the help of a waterproof inner cover, you can be sure that maintaining it is not a problem. The anti-slip bottom means that it will remain in its place, and it is hypoallergenic.
Additional features:
• Two designs
• Available in two different sizes
• Memory foam padding
• Suitable for dogs suffering from arthritis
• Dual-layer construction
How much can a dog owner expect to spend on a quality dog bed?
If you plan on buying a quality bed for your dog, you can expect to spend between $50 – 150. The cost varies depending on the size as well as the filling and the material of the bed.
We hope that the above guide is helpful for you in choosing the right dog bed for your English bulldog. This is an important decision for all bulldog owners, given that these dogs can sleep between 12-14 hours a day.