You're excited about bringing your beloved English bulldog home. You've finalized the paperwork and you've pet-proofed your home. You've bought all the necessary supplies and you can't wait to create valuable memories with your pup. When you finally bring him home, you realize that he is not as pleasant as you anticipated. He is ramming into things and ignoring you when you call him. He may also be sickly and therefore lazes around the house most of the time.
Buying the perfect English bulldog starts with identifying a reputable breeder.
To find a great English bulldog breeder look for four specific traits in the breeder: transparency, friendliness, professionalism, and knowledge and expertise.
A breeder influences most of the dog's traits including their behavioral patterns and their health condition. This dog breed is especially sensitive and buying one from a disreputable English bulldog breeder may lead to costly problems in the long run.
So how do you identify the perfect breeder?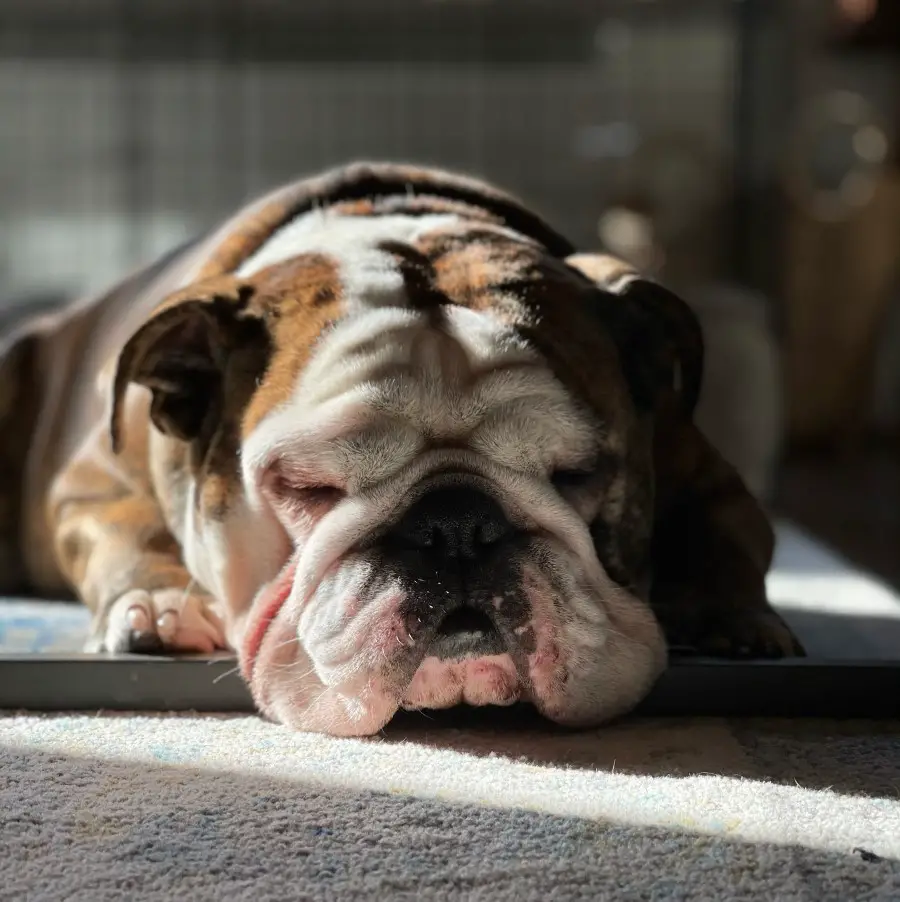 Starting the search process and where to look
The internet is obviously the first place most people go to when looking for an English bulldog breeder near them. While YouTube videos will tell you what to look for, avoid trusting everything the internet tells you. In addition, do not at any point consider buying an English bulldog by following a link you saw online.
Start your search by seeking information on what to look for in a breeder by reading articles like this one, but ensure you visit the breeders physically if you can.
Look for referrals
If you have friends who have managed to buy and raise English bulldogs, talk to them and ask them about their breeders. They will have hands-on experience and will likely give you useful information compared to people who've never bought or adopted a dog. Bear in mind that an English bulldog is unlike any other dog, Therefore, asking for referrals from friends who have other dog breeds may not be that helpful.
Registered associations and club members
There are different types of breeders: Small-scale breeders, puppy mills (not actual breeders, but sadly they exist) and club- or association-based breeders. Small-scale breeders tend to focus on breeding a small number of dogs (often one type of breed) and giving them the best care they can. Puppy mills, on the other hand, do not pay much attention to the quality of their breeds, but rather focus on the number of puppies they breed and how much money they can generate of their dogs, without necessarily caring for the dog's health.
As for club-based breeders, they're usually members of registered Kennel or Canine clubs and operate within the guidelines set by their parent association. The American Kennel Club (AKC) is one such organization famed for breeding different dog breeds. You'll be better off getting your bulldog from a member of such a club because they operate within set standard guidelines. In addition, club members are likely to have easy access to complementary puppy services, guidelines and supplies which they may extend to you once you purchase your dog. Most importantly, their practice is not only standardized but also regulated and monitored by the parent association. The American Bulldog Club's website is a great place to start your search.
Four key qualities to look for in an English bulldog breeder
You won't be able to find a great English bulldog breeder unless you know what you're looking for. A breeder's personality is as important as his breeding skills and these four qualities definitely make an excellent breeder:
Transparency
If a breeder seems to have something to hide, just walk away when you can. A good breeder will be open and willing to not only answer your questions but also show you around. They will explain their processes to you clearly and take you to the litter during your visit. However, if you encounter a breeder who is unwilling to give you a tour of their kennels, or unwilling to tell you what he or she feeds the dogs, their practice is most likely unprofessional.
Friendliness
The English bulldog is an emotionally needy animal. The outcome of his behavior and personality depends highly on the breeder and other dogs or people around him. If deprived of attention or treated with hostility, the English bulldog can be hostile, stubborn, clingy and destructive. Therefore, go for a breeder who is generally friendly, especially to the dogs. You will save yourself from a lot of trouble in the future by working with someone who treats their dogs well.
General professionalism
A good breeder will not just sell their pups to anyone. Good breeders are thorough when it comes to their adoption and selling processes. They will try to capture important details about you and they will have a professional procedure of doing so. They will also have their paperwork and certifications in order. For instance, if you ask for a license and the breeder declines or delays in producing one, consider taking your search elsewhere.
Moreover, do not expect to visit the litter and get your pup on the same day, unless you're working with a very unprofessional breeder. Good breeders take time before giving their dogs to someone. In a nutshell, professionalism narrows down to the simple things, including the litter's set up, cleanliness, and how you're treated from the onset.
Expertise and knowledge of the breed
As mentioned above, the English bulldog is a special kind of dog that requires special attention. A good breeder is not just conversant with general dog matters such as teething and exercise. You should settle for a breeder who specializes in breeding and training English bulldogs. To test their knowledge, ask crucial questions regarding the dog's health, possibly inherited health conditions, daily routine, general temperaments, and the parents' history. A good breeder should be able to give in-depth answers to these questions. If their answers are vague and unsatisfactory, they probably know very little about the breed. It's also important to research extensively beforehand so as to know what kind of answers to expect.
How much should you expect to spend on a bulldog puppy?
The English bulldog is one of the more expensive dog breeds out there. It can cost between $2,500 and $10,000. The price depends on the location of the breeder, the stud's quality, as well as the breeder's reputation.
High prices may not necessarily reflect the breed's quality but it's important to understand how this cost comes about.
English bulldogs have a unique body and head structure. They're therefore not able to mate, conceive and deliver naturally. Breeders need to deliver the pups through Caesarian Sections. This breed is also prone to a lot of diseases and hereditary disorders, the most common one being respiratory complications. Something as simple as overheating or excessive exercise can cause serious life-threatening problems to an English bulldog.
In a nutshell, this breed is pretty high maintenance and a breeder spends a lot in breeding and maintaining a litter. Therefore, the prices will definitely be higher than what you'd expect to spend on some other breeds.
Be careful not to settle for the cheapest deal, as such dogs may not be of good quality. They could be deficient in their training or their health status may be questionable. After all, you do not want a stubborn dog who can't understand the most basic of commands.
Questions to ask your breeder
Here are some questions that you might want to ask your breeder when looking for a puppy:
How long have you been breeding bulldogs?
Are your litters registered? If yes, do you have the registration forms with you?
What qualities do you focus on when breeding your dogs?
Are you a member of any Bulldog Club or Association?
What do you feed your dogs?
Have your puppies undergone medical shots? Which ones have they received?
How would you describe the dog's temperament?
Have the dogs been trained?
Do you offer any complementary packages (health, training etc.)?
Are the dogs micro-chipped or tattooed?
What are the dog's dominant personality traits?
What preparations should I make before taking the dog home?
Common red flags to look for in breeders
While the above guidelines may help you identify a great English bulldog breeder, disreputable individuals who have been in the practice for long enough may easily fool you with their dog and pony shows. Common red flags are however difficult to hide when it comes to dog breeding, especially the English bulldog. If you sight any of the following scenarios during your visit to the breeder, you might want to consider other breeders:
Hostile dogs
A breeder may pretend to be friendly but the way his dogs behave is a reflection of his true self. English bulldogs are some of the most playful pets with friendly personas. If they show hostility and rough play among each other, there is a possibility that they have been roughhoused and abused by their breeder. You do not want such dogs in your house as they may be hostile toward your guests, children, and other pets.
A dirty kennel
Dogs are generally high maintenance but English bulldogs are extremely high maintenance. A dirty kennel might be an indicator of a lazy and careless breeder who pays little attention to his or her dogs. Also lookout for the general condition of the litter. The pups and their parents should be clean and healthy-looking.
Too many old dogs
Unless you're dealing with a breeder who rescues old dogs, you should expect to see young English Bulldogs in the kennels. Most breeders give out puppies to their new owners at 8 to 12 weeks. Too many old dogs could mean that the breeder's dogs are not very popular. While nothing could be wrong with old dogs, you should be careful about taking in dogs that others didn't want, and understand the reasons why they were not wanted.
Owning an English bulldog is definitely an exciting journey. You probably can't wait to spend time with your pup, making unforgettable memories. However, the American Bulldog Club recommends taking time when searching for the right breeder and the right dog. Rushing to buy your dog from the first breeder you come across may turn your experience as a dog parent into a nightmare. The English bulldog is quite sensitive when it comes to health and temperament. This dog can be the most adorable creature on earth but it could also be very unruly and stubborn depending on the breeder. Therefore, pay as much attention to the breeder as you're paying to the bulldog.