We all wish that we could spend all day long with our English bulldog pup, but at some point, we have to get back to the routine of going to the office. Luckily, English bulldogs are pretty lazy and can basically sleep through the day if left to their own devices. But, does that mean it's okay to leave them alone for hours on end? For how long can English bulldogs be left alone, and does that change as they grow older?
Adult English bulldogs can be left alone indoors for 8 to 10 hours at the most. Bulldog puppies between the ages of 3 and 10 months can be left alone for 3 to 6 hours. Make sure to leave your bulldog with his/her favorite toy to prevent boredom.
However, the older the dog, the more relaxed and trained they will be, and that longer limit could get extended. But we recommend not leaving your adult bulldog alone for more than 10 hours at the most. Below are general guidelines for how long you can leave your bulldog alone by age:
| | |
| --- | --- |
| Age of bulldog | Hours spent alone |
| 8 – 10 weeks | 1 hour |
| 10 – 12 weeks | 2 hours |
| 3 – 10 months | 3 – 6 hours |
| 10+ months | 8 – 10 hours |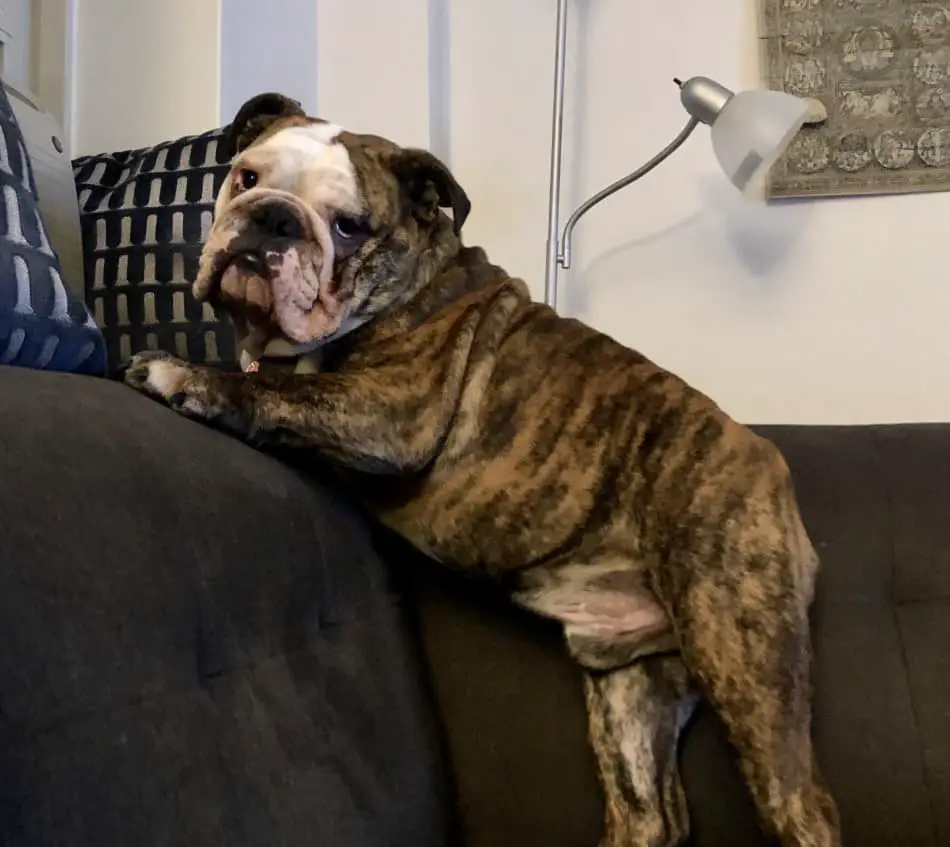 There are certain precautions you should take, however, before you leave your bulldog him or herself. These precautions will ensure that your dog is entertained, hydrated, and safe while you're not around.
Should you leave them indoors or outdoors?
This really depends on where you live and the climate by you, but generally, we recommend keeping your bulldog indoors while you're away. As we know, English bulldogs are pretty sensitive dogs with a variety of allergies and skin issues, which is the top reason why we recommend they stay indoors when unsupervised.
However, if you live in an area with a temperate climate, you could leave your bulldog outside under the following conditions:
You have an enclosed space, with no way for your dog to escape
You have a way for your dog to come inside whenever he or she wants to
You have adequate water available
You live in a safe neighborhood
The space has adequate shade for your dog to rest under
How to help them expend energy while you're away
Bulldogs are like children: when left unattended, they could get bored, and will look for ways to distract or entertain themselves. This might lead to furniture-chewing or other destructive activities, if they don't find something better to amuse themselves with. To best prevent this kind of behavior, we recommend:
Leave them with their favorite toys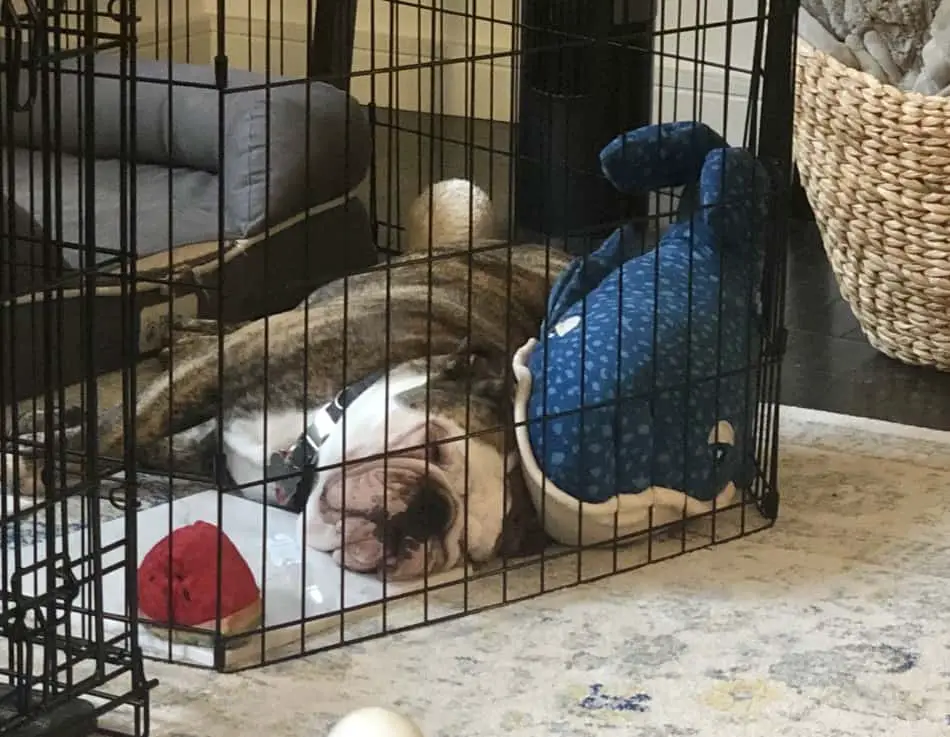 Leaving them with their toys will not only give them an avenue to expend their energy, but it will also keep them happy and feel less alone.
Leave them in the appropriate space
This really depends on how you have raised your bulldog and what is most comfortable for you and your pooch. If you have create-trained your bulldog, and he or she is most comfortable in their crates while you're away, then it might be best to leave them in their crates when unsupervised.
However, if you have a bulldog that gets antsy and needs more space, a larger fenced-in area might be the better option for him or her.
In either case, make sure that your bully has access to plenty of water and toys to keep them happy and hydrated.
What steps can you take to make them comfortable while alone?
Speak with them before leaving home, but don't over cajole
We get it. It's hard to leave your bulldog without saying goodbye. However, fawning over him or her every time you step out of your home, will not lead to healthy behavior and might make your dog more anxious.
So, speak to your bully softly as you get ready to leave and give him or or her a few good pats, and then off you go!
Create a personalized space
Whether you leave your bulldog in a crate or in a fenced-in area, make sure he or she has access to their bed, and whatever items they need to feel like they are in their space. This will leave them feeling less anxious and concerned when you are not around.
Make sure the temperature is right
English bulldogs are susceptible to high heat and cannot handle humid conditions for a long time. It's best to keep the temperature in the range of 65-70°F. It's also a good idea to remotely check on the temperature, if you're able to, to ensure that there is no sudden drop or increase that would make your dog experience any discomfort.
It is vital to abide by these conditions to ensure that there is no adverse impact on the health of your bulldog. The good news is that with the help of a smart thermostat, you can fulfill all of these conditions quite easily.
Give them something to occupy themselves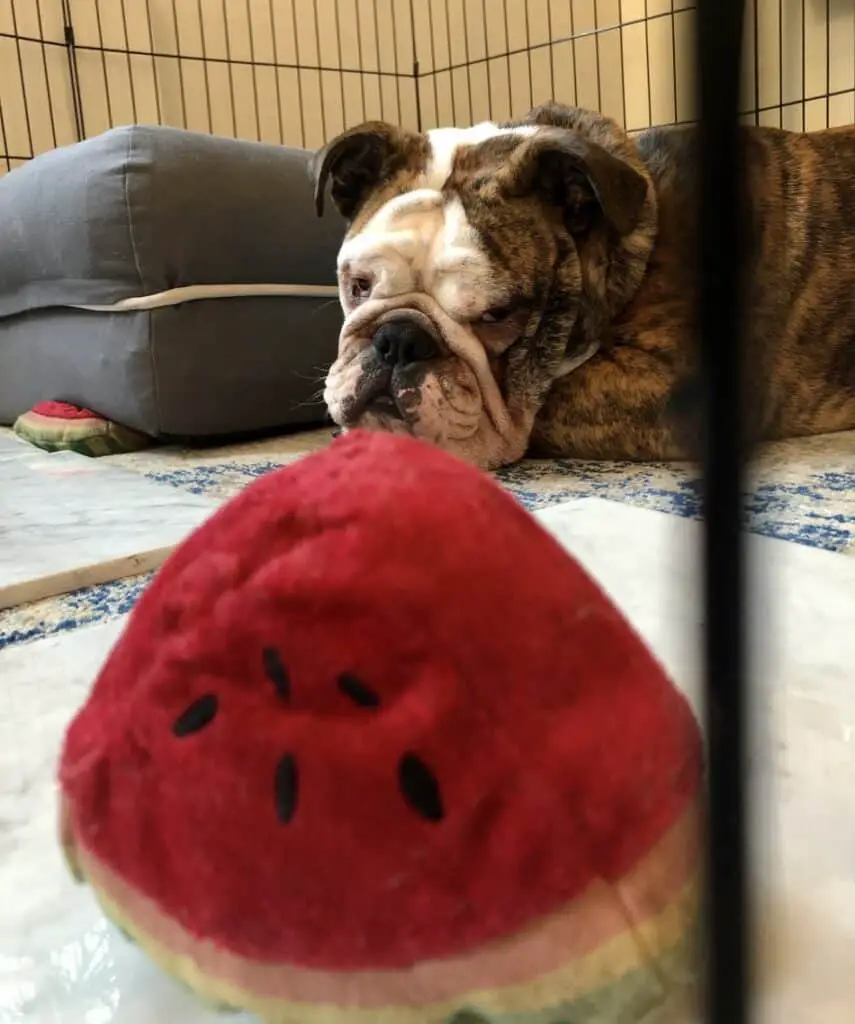 As we've noted above, it is important to keep your dog entertained so that they don't get bored when alone. Chew-resistant toys are good options for them to play with, and helps give them something better than your furniture to chew on. A ball or something similar that they can run after, might also be good to not only keep them entertained, but also help to expend that extra energy.
Hire a dog walker
Although older dogs might be okay with going for a walk before you leave and after you come back from work, we do recommend either hiring a dog walker or asking an acquaintance to come check on your dog if you plan on leaving him or her alone for an extended period of time. This will also help give you piece of mind that your pup is holding up while you're away.
Optional: leave some dog treats
Being alone can be stressful for your bulldog, so it's best to think of all the ways you can make your dog comfortable while you're away. One way is to leave it with some treats. Now, obviously, your bulldog has no self-control, so you can't just leave them with a bag of treats.
But, you could have an automated treat dispenser that releases a treat at specific times, to spoil them a little. Another option is to give them a toy with treats hidden inside. This will give them an activity with a reward at the end.
Spend time with your dog once you're back
Once you're back home after a long day at work, there is nothing better than hanging out with your best friend. We recommend playing with your pooch or taking him or her out for a walk, and getting in that extra quality time. Don't overdo the the cajoling and cuddling every time you're back – making your departure and arrival a normal activity is best to not overexcite your dog every time you leave or come back home.
In general, English bulldogs are great apartment dogs who can be left alone for between 8-10 hours. However, every dog is different, and you should check to see how your dog reacts when left to their own devices. This should also be done gradually – do not attempt to go away for 8 hours in one go! And when you do leave your pup, make sure to take all the necessary precautions so that your bulldog is safe, hydrated, comfortable, and entertained.