In a rush but your English bulldog is slowing you down? Have a day full of errands, and you'd like to take your bulldog with you, but would also rather get your checklist completed in a speedy manner? Or maybe you just want to go for a run and take your bulldog with you for a ride?
If yes, then a dog stroller could help you. In fact, there are several reasons why a stroller could come in handy:
If you're looking for a bulldog stroller recommendation without doing a ton of reading. I would recommend the Petbobi 4 Wheel Dog Stroller. I own a Booyah brand stroller which is good but just too big for my apartment. If I were to buy another stroller I'd go with the Petbobi.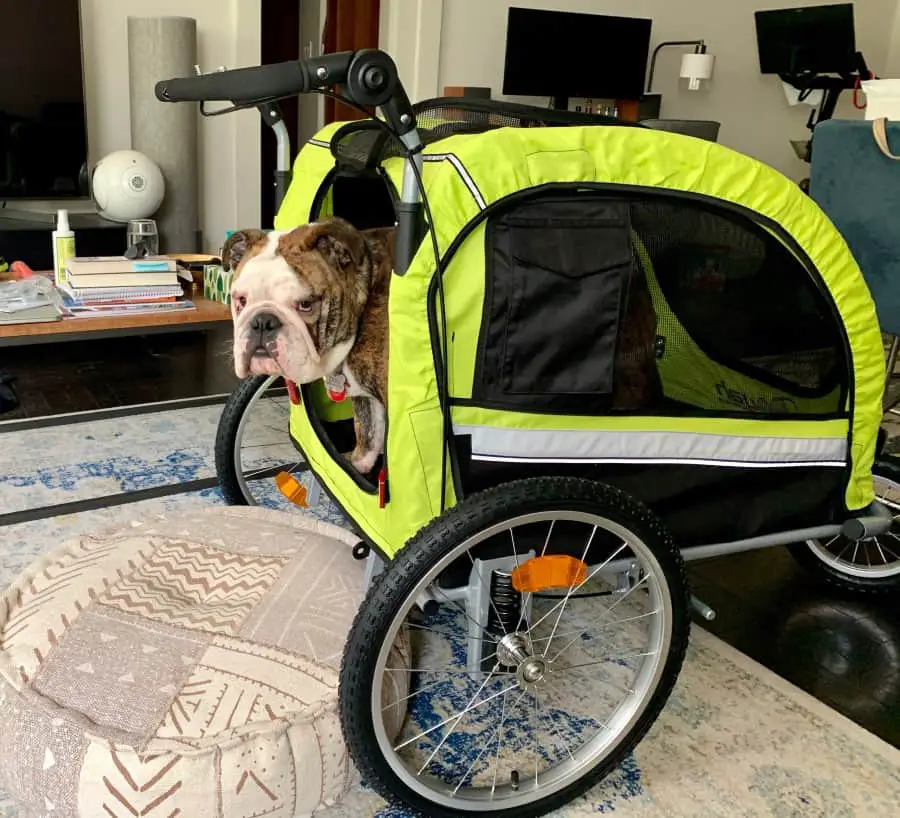 1. The stroller ensures that your dog does not have to walk around for long distances. This is especially handy when you know you're going to have a long day and when the weather is particularly hot.
2. The stroller creates a buffer zone for your English bulldog and protects him/her from potentially dirty or recently salted streets, which might hurt your bulldog's paws.
3. If your English bulldog is recovering from an injury, has any leg issues, or is just getting old, the stroller can help you carry on with your busy day, while letting you hang out with your best pal in tow.
4. A stroller can also help provide a barrier between your bulldog and other dogs, which comes in handy if there are instances when you have to keep him or her away from their doggy friends, for health or other reasons.
What are features one should look for when buying a stroller for a bulldog?
Before you go through our list of the best strollers for English bulldogs, it is essential to understand the features to consider while buying one. These features will help you choose from the top five listed below.
• Weight carrying capacity: Generally speaking, when choosing a stroller for your English bulldog, anything over 40 lbs is a good option.
• Handle design: You should also look at the handle design and get something that is adjustable for different heights, especially if more than one person might be using the stroller.
• Wheel design: This is an important aspect when it comes to the durability of strollers. It's best to get wheels that can be used on different terrains. Additionally, look out for wheels that have shock absorbers, larger tires, or a suspension system, as those are all features that will ensure your bulldog will have a comfortable ride.
• Storage space: Hey, if you're investing in a doggy stroller, why not get something that can help carry other things as well? This way, you can keep all your pup's items he or she will need for a full day of activity: water and food bowl, treats, maybe some toys, etc. And, you can even add in any of your shopping, keeping your hands free for some extra petting action. And we won't judge if you add in your own treats too!
The above criteria might be helpful in deciding which stroller is best for you and your bulldog.
What feature should you avoid when looking at strollers for your bulldog?
There are some features that you should avoid in bulldog strollers. These include:
• Completely solid canopy: It's better to go with a canopy made of a mesh-like material, which not only gives you more visibility of your little one, but also allows for better ventilation and more comfortable temperatures. The bigger and taller the canopy, the better the ventilation.
• Inflexible handles: This is especially important if more than one person will be using this stroller and are of different heights. The adjustability of the handle will allow it to be a comfortable experience for the person pushing the stroller.
How much do good strollers for bulldogs cost?
The cost of the bulldog stroller can vary, ranging from fifty to hundreds of dollars. The cost of course varies by the number of features offered, and a sturdier stroller will understandably cost more than strollers of cheaper quality.
What are the top brands for dog strollers, that are also bulldog-friendly?
Some of the top brands that you can choose from include:
Petbobi
Booyah
Ibiyaya
Gen7Pets
HPZ
TOGfit
Pet Gear
Each of these brands has multiple strollers on offer for bulldogs, but here is our list of the top five strollers that are especially bulldog-friendly: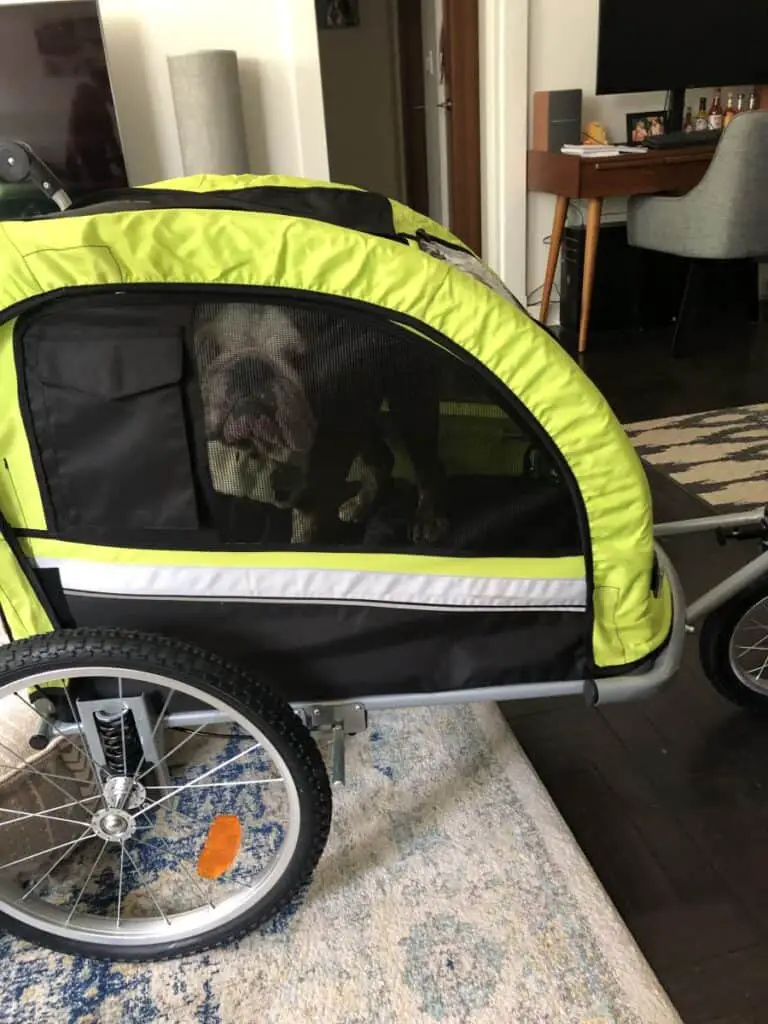 Top 7 strollers for bulldogs
This is the large dog stroller seen in the photos above. It is easy to assemble and a sturdy dog stroller that will be able to handle even the heaviest of bulldogs. A downside of the stroller is it's very big, so make sure you have lots of space to store it. It's also quite wide, so we recommend measuring your doorways to ensure they are wide enough. Luckily, you can fold the stroller's tent down, making it a bit easier to store in a storage closet. If you live in a small New York-style apartment, this stroller is probably a bit too large.
Personal Note: Depending on how tall your bulldog is you might need to give them a little step or ramp to enter through the back of the stroller.
If I was personally going to try another stroller for my bulldog, this is the one I would try next. I live in an apartment and the Booyah is big and just barely squeezes through the doorways and elevator. The Petbobi for large dogs looks more compact and better for those with smaller living arrangements. Like the Booyah large stroller, this stroller can handle heavier dog breeds like bulldogs.
The stroller on the top of our list can carry large dogs weighing up to 77 lbs, which should be adequate for the chonkiest of bulldogs. And it comes in three color options: apple green, navy blue, and brown/pink.
Its frame is made of aluminum, keeping it quite lightweight and easy to carry around when not in use. With the help of the collapsible canopy, you can customize the dog stroller as per your needs. The canopy is also convertible and can be set up in four different ways to help suit your doggie's needs: you can have it open in the front for him or her to enjoy the sights, open to the rear so you and your pal can have endless facetime, open completely for 360-degree views, or closed completely for when the little one is pooped and just wants to nap without being disturbed by the outside world (don't worry, the mesh windows will still let you see your little guy even as he or she naps!).
It is also easy to maintain, as it comes with a removable, internal padding, which is machine washable. And there is a basket at the bottom, which can be used for all his essential treats.
Another advantage is the height-adjustable handle, which lets you move the stroller with ease. The 360-degree turning wheels ensure that you will have no trouble at all in moving the stroller.
Key features of the Ibiyaya Elegant Retro I:
• Sturdy and light aluminum frame
• Height-adjustable handle
• 360-degree turning wheels
• Excellent ventilation and visibility
• Suitable for large dogs
4. Gen7Pets Promenade Pet Stroller:
The thing that most stands out about this pet stroller is the wide canopy, which makes it especially roomy for your pupper. You can also fold this canopy to the height that is most comfortable for you and your little one.
This stroller also comes with a storage basket at the bottom, which helps you store any additional items you need. The stroller can hold up to 50 lbs of weight, which should be plenty of your bulldog, and the 360-degree moving wheels ensure that you can move the stroller around with ease. The handle also includes two cup holders – perfect to hold a beverage for you and your dog!
The stroller has a smart folding feature, which lets you collapse it down when you're not using it, which means you can store it away quite easily. And the padding inside is machine washable, making it easy to clean.
Key features of the Gen7Pets Promenade Pet Stroller:
• Adequate weight carrying capacity
• 360-degree moving wheels
• Folding structure
• Easy to assemble
• Large canopy
The unique feature of this heavy-duty dog stroller is its high-density Oxford 1600D polyester fabric, which is comfortable for your dog, but also stain-resistant and machine-washable. It comes with two pads for the pet compartment, which makes it very comfortable. The top canopy is made of a breathable mesh and UV reflective material, keeping the compartment a comfortable temperature for your bulldog.
A unique feature of this stroller is that you can fold it and unfold it with a single hand. Additionally, the anti-vibration system means that your bulldog will have a completely comfortable ride. With the help of 360-degree moving wheels and the rear braking system, controlling the stroller will not be a problem at all.
Want to bring your bulldog's friend along for the ride? No problem! You can easily change the size of the internal compartment to hold pets of different sizes, so that you can carry a few friends along for the ride, depending on their size of course! Luckily, the stroller can handle up to 75 lbs.
Need more space?
The compartment can expand, which ensures that the interior is nice and roomy for your bulldog. With the help of POM 3 rubber tires, you can be sure that you will not have to worry about a flat tire on any terrain
Below the handle, you will notice quite a bit of storage space as well, which is another advantage.
Key features of the HPZ Pet Rover Premium Stroller:
• Expandable
• Heavy-duty tires
• Anti-vibration system
• Large storage space
• Weatherproof
The mattress underneath the main compartment makes this stroller soft and cozy for your dog, which makes it perfect for dogs that might be recovering from surgeries or injuries.
It has a durable and tear-proof design and the mesh-like fabric allows for good visibility and ventilation. The height-adjustable handle and the large wheels make it very comfortable and easy to move around.
It has a sturdy, powder-coated steel frame and can handle a carrying capacity of 70 lbs. The parking brakes along with the suspension system make it easy to use. It consists of a shopping basket as well, which can store your possessions with ease.
Key features of the TOGfit Pet Roadster Luxury Pet Stroller:
• Excellent suspension system
• Light and durable steel frame
• Tear-resistant mesh
• Carries up to 70 lbs
• Height- adjustable handle
The 12-inch rear tires of the stroller make it very comfortable for your dog. Moreover, the canopy can also be adjusted to three levels and it comes in three color options.
The bolster pad as well as the weather cover keep your dog comfortable inside this stroller. The stroller also comes with a storage basket that can hold a maximum weight of 6 lbs to carry your belongings, in addition to the carrying capacity of 70 lbs.
It also consists of safety brakes along with shock absorbers, which means that irrespective of the terrain you're traversing, your pet will remain comfortable.
Key features of the Pet Gear NV No-Zip Pet Stroller:
• Adjustable canopy
• Shock absorbers
• Available in three different colors
• High weight carrying capacity
We hope this list is helpful to you as you find the best stroller for your bulldog so that you can spend additional quality time with your bully!